This post contains affiliate links.
Today I am linking up with Amber to tell you "What I'm Also Thankful For.."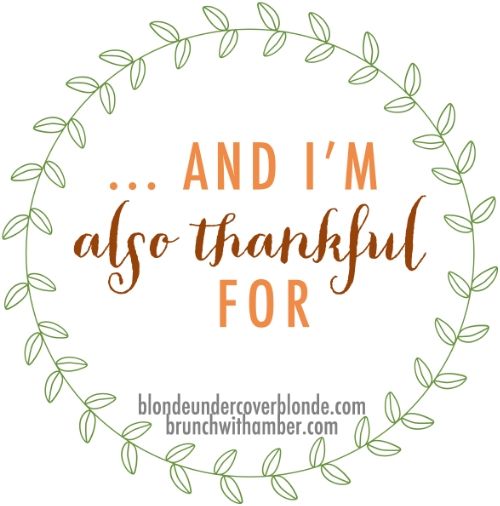 This list is strictly for the silly, materialistic things I am thankful for. Expect a more serious post later this week…LOL! Here we go…
I am also thankful for…
…the person who invented the Chi. I have said it before and I will say it again, I truly love my Chi flat iron. I will be forever grateful to the person who invented the Chi. With it's amazing ceramic plates that heat up to 410* and make my hair so unbelievably silky, smooth, and shiny, I love you Mr/Ms inventor of the Chi.

…Pinterest. I mean really though. What would I do with all my free time at work if I didn't have my Pinterest app on my phone? Where else would I get all my craft ideas and new hair 'dos?? I love you Pinterest, you are the greatest time suck I can think of.
…my Homemade Sugar Scrub. No, this isn't a shameless plug to one of my posts…ok, maybe it is. All I'm saying is that I have had to shave my legs waaaaaay less often since I started using this little miracle made of sugar and Dawn. As a bonus it makes my face pretty smooth too! Insert shameless plug to the post HERE.
…the amazing acapella version of Royals by the AcaBelles of Florida State University. If you don't love this videa you should question the validity of our friendship. Just kidding!! Sorta…
…The Hunger Games series.
And pretty much any other young adult book series out there…Harry Potter, Divergent, Twilight…you name it, I get into it. I named Hunger Games first because Catching Fire just came out an dI have already seen it twice. Don't judge. It's freaking awesome and I bawled my eyes out both times.
…sequins. If it has sequins on it, I will probably buy it. Can't help it, I LOVE them!! I actually bought this shirt last year and finally wore it the other day to Catching Fire. Not sure what took me so ling to wear it???
…Channing Tatum. Do I need to explain this one? Thanks Chan for being my eye candy for the past 8 years.
Happy almost Thanksgiving!!!