This post contains affiliate links.
I haven't linked up for Friday's Letters in forever! In fact, the last time I linked up the blog that hosted it had a different name…oops! I really love this linkup though so I am back at it!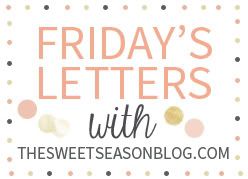 Dear Friday, I am so happy you are here. I am working today but I am still happy to see you! Dear Razorback Fans, I realize tomorrow is the first big Little Rock game and I am just as pumped about it as you are but can we ease up on the traffic situation? I have to be at work by 2:30 and I would love to have a parking spot when I get there. Dear Sophie, I am so proud of you!! You are getting to be such a big girl now and I am soooo happy I can leave you out when I leave and you won't tear up my whole house. I really hope I didn't just jinx you by saying that. Dear Money in the Bank, I love to spend you oh so very much! In fact, I love to spend you a little too much. Therefore I am mandating a No Spend September right here, right now. Sorry 'bout that. Dear BBC Dallas, I am counting down the days until you finally get here. I can NOT wait to meet more awesome bloggers and learn more super cool stuff from Tiff and Fran. They are the BEST! And Cyn too! Can't forget Cyn, she's freaking hilarious! Dear Self, Like Jenn said the other day, I don't need to be so hard on you. Other people are mean enough and I need to take it easy on you and love you just the way you are…mistakes and all.
Totally un-post related but I thought I would share these with you. Happy Friday!
One more thing….WOOOOOOO PIG SOOIE!! RAZORBACKS!!!!